John Murphy, MSOL, RRT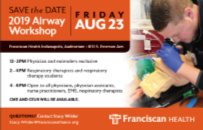 The Respiratory Care department will host the 9th Annual Airway Workshop TM on Friday, August 23. Three sessions are offered: 12 PM – 2 PM, 2 PM – 4 PM and 4 PM – 6 PM. Sessions will be held in Auditorium A & B at 8111 South Emerson Ave, Indianapolis, IN 46237. Physicians and respiratory therapists are often the default leaders for managing airway emergencies in CPR settings and rapid responses. This is especially true for the direction of emergency or potentially life-saving airway placement during Code Blue occurrences. Training for specific airway products and processes do not routinely occur to permit proficiency for all of the medical staff. Knowledge gaps can exist for use of airways and exchange catheters, LMA's, videolaryngoscopes, cricothyrotomy tubes, and retrograde intubation supplies. Teaching best practices is needed for physicians, therapists, and EMS to learn correct use of airways and equipment used in the hospital. The Airway Workshop TM was established to teach these practices. The workshop will enlist a multi-speaker format of physicians, therapists and other content and performance experts for 14 airway placement and care stations. Participants can receive 2.0 CME or 2.0 CEU for completion of the 14 station objectives and evaluations of the presenters at these stations. Respiratory Therapists will receive 2.0 CRCE credits as approved by the AARC. Hands-on practice time and questions are answered at each of the three sessions set up for physicians, respiratory therapists, EMT, EMT-P, and students.
With many stations available, "hands on" practice and explanations of best practices are explained for participants to potentially gain minimal competence with airway trainer manikins for difficult and advanced airway placements used in hospital practice.
Performance of airway placements under the supervision of a content and process expert on trainer manikins can improve participant's understanding and proficiency.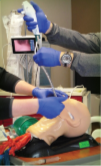 Registration cost is $35 for professionals (RT, MD, DO, NP); $10 for EMT-P, Students (Call for discount code).
The workshop geared towards: MDs, PAs, NPs, Respiratory Therapists, EMTs, EMT-P, and students.
Franciscan Health staff will register online in our Learning Compass, but those interested in this training from outside Franciscan Health can call Stacy Wilder in RT to register at 317-528-8901. Questions? Contact Stacy Wilder at stacy.wilder@franciscanalliance.org or John Murphy, MS, RRT at jmurphy@in-isrc.org.
These details are online here: 2019 Airway Workshop event.