The ISRC Program Committee is pleased to present the 2018 Respiratory Care Conference in the Muncie's Horizon Convention Center on September 13 and 14. We are expecting 300 attendees from Indiana and surrounding areas. Exhibitors and participants can register on Eventbrite online.
Exhibitor questions? Call Jeff Hunsucker at (317) 944-1007 or Jeff Scott. Booth space is limited. For your convenience, a link to sign up is located on the ISRC website. If you need to mail a check please mail it to: ISRC PO Box 951, Indianapolis IN 46206-0951.
The theme for this year's seminar is "Game of Therapies."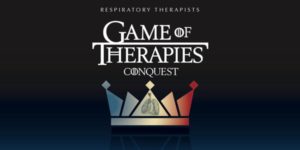 The RT's attending will choose a "Best in Show" Booth based on voting for the booth that incorporates this theme the best. The Program Committee also will recognize one sponsor for outstanding support of our state society. Back by popular demand is trivia night and we are seeking a sponsor for this. If your company is interested please contact Jeff Scott. For the 15th year in a row, the ISRC will have a Silent Auction at the conference to raise money for student scholarships. Participants are asked to consider donating a basket or gift auction item by contacting Mary Todd at (812) 779-6842.
We look forward to seeing you at the show. Let's make 2018 the best year ever.